Invisalign

Richmond, VA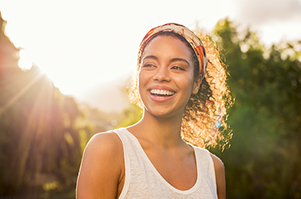 When given a choice, would you choose metal wire braces or a virtually invisible way to straighten your teeth? If your answer is the latter, you're not alone! Invisalign clear aligners have gained immense popularity among orthodontic patients in recent years due to their convenience and discreteness. Unlike braces, the aligners are made of a comfortable and clear plastic that fits snugly over your teeth and can be removed for eating and brushing. They can be used to treat mild to complex orthodontic cases and are tailored to your individual needs. Thus, if you're looking for a comfortable and convenient option to correct your smile, Invisalign might be the perfect choice. Our experienced team of orthodontists at Riverwind Dental will customize the Invisalign system for your specific needs and ensure you get the best treatment possible.


What Is Invisalign?

Invisalign is a series of custom-made, clear plastic aligners designed to gently and gradually move your teeth into the desired position. The aligners are made using SmartTrack, a flexible thermoplastic material. According to the American Association of Orthodontists, clear aligners are designed to be a less conspicuous orthodontic treatment option. While the aligners may not be completely invisible, they are far less noticeable than traditional braces.


Benefits of Invisalign

The biggest advantage of Invisalign is that it allows you to straighten your teeth without metal wires or brackets. They can also be easily removed for eating and brushing teeth, making them more convenient than traditional braces. Moreover, the aligners have no irritating or uncomfortable brackets and bands that may cause pain or damage your soft tissues. Invisalign also requires fewer appointments than you would need for traditional braces, which makes it more convenient.


Which Type of Dental Issues Does Invisalign Correct?

Invisalign can be used to treat several orthodontic conditions, including crowded teeth, mild to moderate tooth misalignment, and spacing issues. Other orthodontic conditions that can be treated with Invisalign include overbite, underbite, and crossbite. It is also effective in treating gaps in teeth and aligning a person's arch. However, Invisalign may be less helpful when it comes to issues such as severe bite problems.


What's the Procedure of Wearing Invisalign?

Wearing Invisalign begins with a visit to an orthodontist for an evaluation and to create a 3-D image of the mouth and jaw. The image created helps the orthodontist devise a plan to move your teeth into the correct place.

Once a plan has been created, the orthodontist will use it to create a series of custom plastic aligners. These aligners will gradually shift your teeth into the desired positions by applying pressure on them. If your case is complex, the dentist may recommend replacing your aligners with a new set every week or two. You'll have to wear your aligners for 20 to 22 hours daily for effective treatment. You're supposed to remove them only when brushing and flossing your teeth, eating, or drinking anything other than water.


Is Invisalign Safe?

Invisalign is considered safe and effective for both adults and teens. The aligners are made of medical-grade invisible polyurethane plastic that's very smooth and comfortable. Also, the custom fit of each aligner ensures that your teeth will move slowly over time under constant pressure without putting too much strain on them. Compared to traditional metal braces, Invisalign is not attached to teeth using wires and metal, thus eliminating the potential for mouth irritation or inflammation.

Are you considering Invisalign for yourself or your child? Visit us at Riverwind Dental to get a personalized consultation. You can also call us at (804) 280-0853 to book an appointment.