Dental Technology

Richmond, VA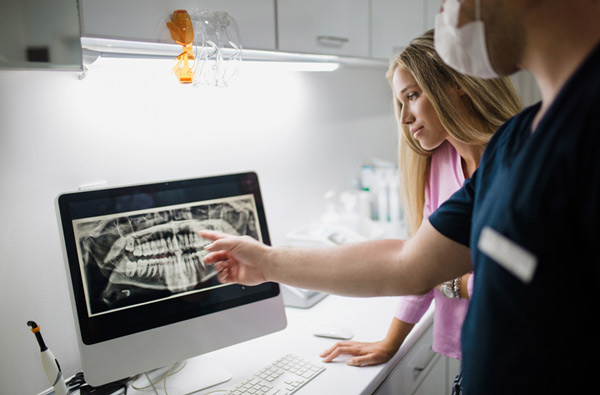 Riverwind Dental uses the latest dental implant technologies to replace missing teeth and create beautiful smiles. Discover more by scheduling an appointment and talking to one of our experts about how the latest innovations can help your dental health. Dental implants have been around for more than 15 years, but as each year passes the technology surrounding dental implants gets better and better. Aids to diagnoses, implant placement, and treatments all contribute to the high success rate of dental implants, ensuring that the treatment is becoming increasingly popular as a tooth replacement option. These are some of the technologies that may be used by the professionals in our office to place and maintain dental implants as well as other treatments and procedures:


Soft Tissue Laser

Soft tissue lasers are used in the fight against gum disease and peri-implantitis. Both are responsible for the degeneration of gum and bone tissue. In the former, the disease affects the teeth, whereas in the latter it affects dental implants. Lasers can remove diseased gum tissue and harmful bacteria, allowing the gums to heal and return them to health. Lasers are also used in minor surgical procedures, for example, to uncover dental implants during the final stage of the restoration when a dental crown is attached to complete the procedure.


CAD/CAM

Computer-aided design/computer-aided manufacture (CAD/CAM) has transformed the production of dental restorations. Now, prosthodontics, such as dental crowns and dental veneers, can be made on-site in a dental office with many patients able to have their new restoration designed, manufactured, and fitted all on the same day. Using computer software and digital equipment, restorations are designed on a computer screen and the finished design is sent to an onsite milling machine that produces the restoration from a block of ceramic. The process cuts down the time required for patients as it dispenses with the services of an outside laboratory where previously dental restorations were made by a technician.


Digital Panoramic X-Ray

Digital panoramic x-rays have a much lower radiation dose than traditional x-rays, so they are safer for patients. For dentists, the 2D image allows all the structures of the mouth and how they relate to each other to be seen on one flat image, providing a better picture than traditional x-rays.


3D Cone Beam

Cone beam imaging goes a step further than 2D, producing a 3D image that is useful for treatment planning and diagnostics. It also takes measurements, such as bone density, and delivers an accurate assessment of the jawbone and whether there is enough bone mass to accommodate dental implants.


Guided Implant Tech

Guided implant technology uses a combination of these technologies, including CT scans, CAD/CAM, and digital x-rays, to place dental implants into the jawbone. They do this by using computer-guided dental implant surgery.


Micro Dentistry

Micro dentistry is essential for magnifying the mouth, enabling the dentist to see difficult areas in greater detail than would be possible with the naked eye. The equipment is used to illuminate and magnify so the dentist can detect problems immediately. Riverwind Dental uses the latest dental implant technologies to deliver top-quality services that patients can rely on. Find out more and schedule an appointment by calling us at (804) 280-0853.